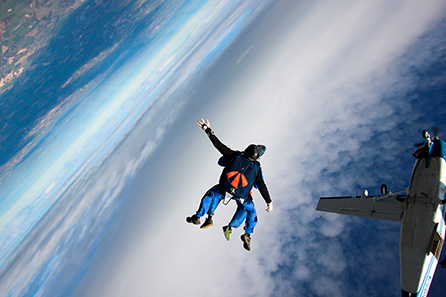 A number of our clients are keen skydivers enjoying their sport in various locations not only in the UK but overseas as well. Some skydivers take part in competitions, others take to the skies purely for recreational purposes and there are those that may only go skydiving on the one occasion having received a gift of a skydiving experience for their birthday or Christmas.
However, there are also those that take part in skydiving for the benefit of one or more charities. Well, if you are interested in going skydiving for a charity but would also like to take part in an attempt to break a skydiving world record then you may wish to read on.
That is because a company by the name of Skydive Buzz Ltd is organizing an attempt to set a world skydiving tandem record that has never been attempted before. The occasion, weather permitting, is to take place on the 20th June 2016 at Dunkeswell Airfield, Nr Honiton in Devon.
It is hoped that a Guinness World Record can be achieved for the most tandem skydives from a height of 15,000 feet above sea level within a period of 24 hours. At the same time, those skydivers taking part will be able to raise money for their chosen charity from a vast selection of worthy causes available. It is hoped that in excess of £70,000 can be raised for the charities.
Skydive Buzz Ltd is looking for 333 skydivers to take part. Jumps can only take place during daylight but those participating will hopefully enjoy freefalling for a minute during the 15,000 foot descent. The company uses three Beech 99 aircraft to take the skydivers up in.
If you are interested in taking part, you can find out more information including the cost by visiting Skydive Buzz Ltd's website www.skydiveukltd.com. We wish all those taking part in the world record attempt every success and a safe landing.