If you are a classic car enthusiast who has an interest in American motors and are considering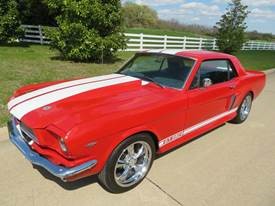 buying one then you have a number of options. By far the easiest one is to purchase such a vehicle that is already located in the UK but if there is a car that has really taken your fancy but is situated over in the USA then you can arrange to buy it and have it imported to this country.
We have a number of clients who are the proud owners of such vehicles. In this respect, we thought it would be of interest to you if we asked our clients how they imported their vehicles from the USA and if they had any tips/advice.
Here is what one of our clients, Mr B, kindly had to say having recently imported this beautiful example of a 1965 Ford Mustang: –
You've imported a few American classic's, what the secret to making it painless?
Personally I've always tried to keep it simple.  You can do it all yourself independently. You can book the cheapest container, book your own shipping, get someone else to load it but your giving yourself 8 extra jobs and if something goes wrong the whole pack of cards falls down.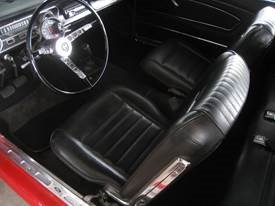 I generally try to use one really competent shipper and give them the zip code, contact details and address and they do the rest.  They also need to know the length, weight and description.
The other key thing is to remember where you are shipping the vehicle from in the US too because the cost to ship from inland American can be as much as shipping the vehicle from the US to the UK.  Generally I buy one not too far from the shipping port so stick to New York, Seattle, San Francisco and Houston but obviously if I stumble across a real bargain I need to factor in the extra transport costs. "
Do you mind sharing with us the approximate cost of the car to purchase in the States and the variety of prices?
$17,500.
From $2000 (wreck) to $250000 (fully restored Shelby GT500)
Who did you imported it through? 
Schumacher Cargo Logistics who will do a door to door service or just to any UK port if you are able to pick-up.
Where did you purchased the vehicle from?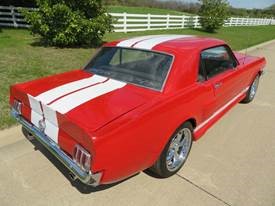 Mark is an ebay seller and mainly deals with Mustangs at Ford Chevy Classics.  He sent me lots of photos and a video of the car in action prior to the purchase.  Another eBay seller with nice cars Oldman Classic Mustangs in Texas.
What do you think the car would sell for in the UK? 
£20-25k
How much was the import tax and any other associated costs? 
Special one off 5% vat for old classic collectors' cars if for personal use. Typically the total shipping costs and taxes vary but were £3k for this vehicle.
Your dream American muscle car to purchase? 
I already have a GT40 but always fancied a 57 Chevy Bel Air 2 door."
Some of the things you will need to consider in respect of the above include: –
Obviously, the greater the distance that the car needs to be transported the more it will cost to move it. So, you may wish to concentrate your search for a vehicle around the east coast of the USA rather than over towards the west coast.
How it is transported will have a bearing on the overall cost i.e. whether it is by air or sea and whether it is transported in a container enabling the carrying of any spare parts or on a roll on and roll off (Ro-Ro) basis.
You can arrange everything to do with the transportation yourself or you can leave it to an established transportation company with the later being the most expensive.
You will wish to make sure that classic car shipping insurance is in place in case the vehicle is damaged whilst being transported.
Once the car is in the UK, you have 14 days in which to let HM Revenue and Customs (HMRC) know.
HMRC will advise you how much VAT and duty is payable. It is worth noting that importing a classic car that is less than 30 years old from the USA incurs VAT at 20% whereas if the car is over 30 years of age VAT is reduced to 5%.
You will need to obtain vehicle approval to show that the car meets environmental and safety standards.
The car will need to be modified to be used on UK roads and have an MOT.
You will need to insure the car here in the UK.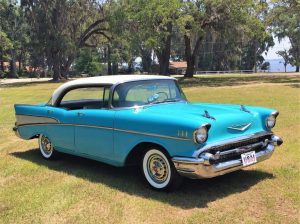 In respect of the last point, here at AIB Insurance, we have many years experience when it comes to insuring American classic cars. Once the car is in the UK we can insure it on a chassis number.  No road cover is provided (although some insurers will let you drive to and from the MOT test centre if pre arranged and disclosed to them) whilst you contact the DVLA to register the vehicle.
Many thanks to Mr B and we hope that he enjoys his American car import for many years to come. If any of our other clients wish to share their experiences about importing a classic American car please feel free to get in touch with us.