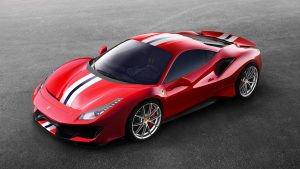 As a general rule, a young driver is usually encouraged by his or her parents to buy a car that falls into the lowest, cheapest insurance group. However, if he or she is determined to buy a high performance car such as a Ferrari or a Lamborghini then the cost of arranging car insurance is going to be rather more expensive than if he or she were looking to cover say a fairly standard Vauxhall Corsa.
There are a number of reasons why this is the case such as: –
A young driver at 20 years of age with a couple of years driving experience is statistically more likely to be involved in a road traffic accident than a 50 year old who has 30 years claims-free driving behind him or her.
They are probably behind the wheel of a powerful car that can get from 0 to 60mph in around 4 seconds so, that is itself, places the driver at greater risk of being involved in a car accident.
A high performance car such as a Ferrari or a Lamborghini will no doubt have a higher value than a standard 3 door hatchback so is costlier to replace.
The parts that are required to repair a high performance car following a road traffic accident are probably going to cost more thus bumping up the price of the policy.
There are fewer insurers prepared to arrange the likes of Ferrari car insurance for young driver than there are to say insure a small, low performance hatchback. As a result, with less competition, this can lead to bigger premiums for car insurance for high performance cars.
A high performance car is more likely to be stolen by a joy rider and taken for a spin and then set on fire and left abandoned.
So, if you know that to buy Lamborghini car insurance for new drivers with limited experience behind the wheel is going to involve you digging deep into your pocket how do you go about finding the cheapest high performance car insurance?
Well, you could spend a great deal of your valuable time trying to source suitable cover. For instance, you could approach the likes of your bank or building society or speak directly to a number of insurance companies or go online and use one of the many price comparison websites.
However, it is probably a better option to use a broker that has many years experience in
sourcing such cover to insure a high performance car such as a Ferrari or a Lamborghini. Remember, the cheapest high performance car insurance may not necessarily be the best option to choose. Surely you would want to arrange the likes of Ferrari car insurance for a young driver with an insurer that is not only competitively priced but that also provides an outstanding level of service from providing the initial quotation to setting up the policy to one that has an enviable reputation for the way it handles claims.
In this respect, you will be pleased to read that AIB Insurance has several years experience in arranging young driver high performance car insurance. We are proud of the fact that we have a team of staff who are extremely knowledgeable and have at their disposal a closely vetted panel of renowned insurers whom they can look to source quality cover from for an affordable premium. So, why not give us a call on 02380 268 351 to discuss your requirements and obtain a quotation without any obligation to proceed. We look forward to hearing from you.