Airsports Insurance Bureau are delighted to announce that due to continued growth, we have moved to new premises, in the heart of Chandlers Ford. Due to our stellar success rate for over 25 years, we required a larger space that was more fitting for our needs and growing team of specialists. Our former base at Fleming Court, Eastleigh, served us well for seven years, but we are now ready and excited for our fresh new future within the new offices.
We have invested in air conditioned, well appointed facilities that will provide us with the opportunity for further expansion as we continue to grow. Our brilliant team of experts and wonderful visitors will enjoy an open plan kitchen, break-out space, board room, training room and managers offices. Based in the prestigious Oakmount House building, Oakmount Road, in Chandlers Ford, the office is located in a superb location close to all transport links.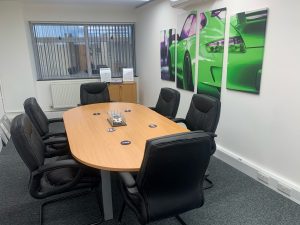 To mark the occasion, we commissioned what is possibly the coolest sofa in the insurance industry… designed and created by our friend Ian, aka 'The Customizer'. It's a VW Beetle, cut in half, sprayed in our distinct AIB blue and compliments the Range Rover tyre table beautifully.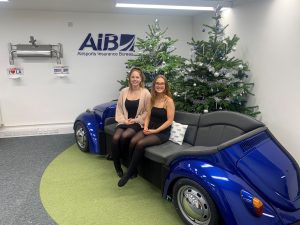 It's vitally important that our staff keep their hands clean at all times, so we've invested in a wall mounted sanitizing unit made from the exhaust system of a Porsche 911, no less! Only the best for our wonderful team of people who do their very best to deliver the excellent service you expect.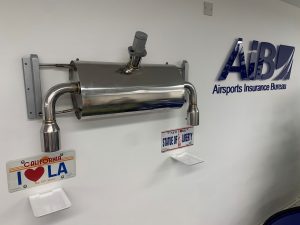 We are thrilled with Ian's designs – he has produced work for various celebrities, including an aeroplane for Lord Alan Sugar's No.1 eatery, Sheesh. The automotive industries are full of weird, wonderful and mind boggling designs, so it's only fitting we replicate a touch of that at our HQ. If you want to add that statement of the unique, with highly creative automotive art, Ian and the team can be contacted here: www.thecustomiser.co.uk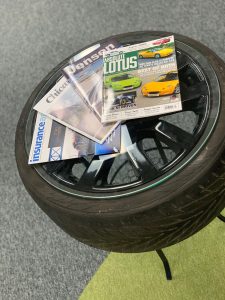 We'd also like to thank our friend Oliver at Office Furniture and Interiors, who has managed the project faultlessly with patience and skill. If you need help with any office design or refit we'd encourage you to contact them, their contact details can be found here: www.ofai.co.uk
Our new address is: First Floor, Oakmount House, Oakmount Road, Chandlers Ford, Hampshire, SO53 2LH. Please do come and visit us (when safe to do so), the brand 'new' kettle is always on!
Please continue to use our existing telephone numbers and email contact information.