AIB are delighted to announce that Clare Beale has joined the administration department, headed by Megan Greer and will learn every aspect of the role within our busy insurance brokers. Our rapidly growing Administration Department is going from strength to strength right now, ensuring the smooth operation of our day to day, dedicated services.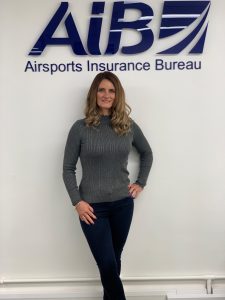 Clare was born and bred just outside Liverpool and attended Mill Lane Comprehensive School in Ellesmere Port. Clare worked for many years at David Lloyd as a fitness instructor. Next came the fantastic opportunity to work on cruise ships as a Fitness Director for three years, travelling around the Caribbean, Hawaii and Alaska. Clare eventually moved to Southampton and worked at P&O cruises for 20 years, where she met her future husband Paul and had three amazing boys.
FAST FACTS: 
Clare once dated a famous pop star for five years! We couldn't possibly reveal his identity but if you took 5, 6, 7, 8 'Steps' to the left, it would be a 'Tragedy' if you couldn't guess the group and artist.
Gary Barlow obsessed Clare was thrilled when the opportunity arose to briefly meet the star and sit on his lap. Lucky Clare! Whilst not particularly accident prone, she also once fell into Vernon Kay's dressing room, luckily timed with Vernon catching her, mid fall. Lucky Vernon!
NOT SO FUN FACTS:
She once decided to have a BBQ in the New Forrest.  When it started to rain the smart witted Clare decided to put the disposable BBQ in the boot of the car to keep her sausages dry which led to the car being set on fire!
WE SAY:
Megan Greer, Administration Manager says: "Clare has made a fantastic start already and has thrown herself into the role, picking the job up very quickly. Her solid background in cruise liner customer care has clearly given her the ability and skill to communicate very well with our varied and valued client base.
At AIB, we pride ourselves on the quality of our staff and the professional relationships we are able to develop. We nurture and encourage our team to reach their full potential, giving them the ongoing training, tools and resources for a rewarding career in a satisfying but demanding environment.