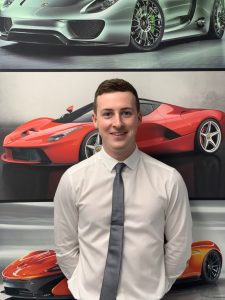 AIB warmly welcomes Jordan Gibbons to our Sales team. Jordan will be working closely with Sales Director, Kirby De Gray Birch, developing all aspects of a long established, fast growing insurance broker.
Whitely born and bred Jordan previously worked in the motor industry for a shipping company, dealing with the import and export of motor vehicles. This has given him a sound grounding in customer service to deal with our range of products from motor and home insurance, through to travel and commercial client's needs. If you need motor insurance please give Jordan and the team a call: 02380 268351
FAST FACTS:
Not only a dab hand with a pair of scissors and a set of clippers (he cuts his own hair), Jordan also has a sound understanding of mechanics, having built his own motorcycle from scratch – a two stroke Derbi Senda. Multi skilled and very talented! A real petrol head, Jordan drives an Audi S5 which he has modified and remapped to 450bhp. Last year, he drove her on a road trip of a lifetime to Amsterdam.
WE SAY:
"Jordan joins an exciting team and is quickly learning all aspects of the role. With a natural love and knowledge of cars, especially modified, he enjoys chatting to our clients and has already insured members of his family and a couple of friends who are extremely pleased with his service and our product."
At AIB we pride ourselves on the quality of our staff: their great personalities, extensive knowledge of the market and their highly professional approach to work. They build solid and long lasting relationships with both our clients and insurer partners, backed by our full encouragement and resource, ensuring they reach their fullest potential.
Despite the challenges of this past year, AIB continues to grow rapidly. We are currently looking for additional like-minded sales and customer service staff. If you want to pursue a rewarding career in a satisfying but demanding environment, or know someone who does, please send us your CV: info@aib.co.uk