On our 25th anniversary we thought we'd give you a brief history of our company and our roots which go back all the way to the 1970's.
First, we need to talk about the British Hang Gliding and Paragliding Association and our strong historic ties.
Throughout the 1970's until 1992 the BHPA was known as the BHGA (British Hang Gliding Association) and sought a range of insurance advice from 'Airsports Insurance Limited' owned by a keen hang glider called Reggie Spooner.
Reggie, a former wing commander in the RAF, had stumbled into insurance and owned his own insurance consultants in Hampshire by the name of Fullbrook Spooner Insurance.  Having seen a gap in the market and to assist the BHGA, he created 'Airsports Insurance Limited' employing Yvonne Jukes from an office in Eastleigh, Hampshire.
Reggie, an astute businessman with a keen tongue for sales, encouraged all sorts of insurance policies for the club, it's members and the BHGA staff that included travel, equipment, life and various liability products.
This changed in 1992 with the formation of another club called the BHPA (British Hang Gliding and Paragliding Association) to embrace the growing paragliding community.  Committee member Dick Long, with the backing of newly appointed chairman Tom Hardie, created 'Airsports Insurance Bureau Limited' which was solely owned by the club to replace Reggie's business and quickly appointed Yvonne to the board to run the business from a new office on the Isle of Wight.
Reggie, missing his key lady Yvonne, wound the former 'Airsports Insurance' company up. However, he had always promised he would use any profits made to help the airsport community. True to his word, he helped local hang gliding and paragliding clubs buy hills that they found for sale.  The first one that they purchased was The Parlour, in South East Wales overlooking Abergavenny, followed by the Tinto, a Scottish mountain with Long Mind in Shropshire later purchased.
When Mark Asquith was appointed chairman to the BHPA in 1997, the insurance arm of the BHPA was considered not viable due to the ever-growing compliance issues surrounding financial services.  As such, the BHPA sold 'Airsports Insurance Bureau' to its then long-standing manager Yvonne Jukes in 2005.
Yvonne's first decision was to employ her sister, Jacqui Prince, who later took full control in 2011 with the sad passing of the much-loved Yvonne in the same year.  Jacqui retired at the end of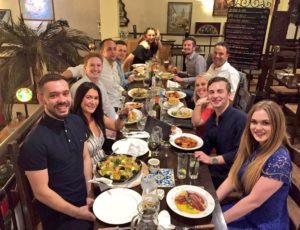 2013 and the business moved back to its original home town in Eastleigh, Hampshire.
We have continued to go from strength to strength, with a large portfolio of motor and home insurance clients and relationships with all sorts of clubs including motorhome, Porsche and Ferrari clubs and associations, as well as still insuring the BHPA members today.
We look forward to another successful and enjoyable 25 years!