Dog owners no doubt take their four-legged friends out on a regular basis for a walk whether it is around the housing estate on which they live or pop them in the car and drive to a country park. However, it will not come as a surprise to hear that very few dogs will get the opportunity to go paragliding with their owner. Well, we have recently heard about a couple of dogs that have done that in different parts of the world.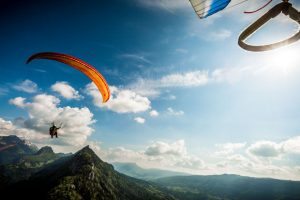 Over in Sydney, Australia, a paraglider by the name of Justin Elliott has recently taken his pooch called Snickers for his first flight up in the air attached to his paraglider. He has owned the dog for about one year and it is a lovely looking cross between a Golden Retriever and a Poodle.
Apparently, Mr Elliott and Snickers took off from what is called Long Reef Headland that is located at the Northern Beaches that is a few miles to the north east of Sydney.
Snickers had his own harness and was attached just below Mr Elliott. A video of the event can be seen on the Internet that you may wish to watch. You will no doubt be pleased to read that both Mr Elliott and Snickers made a safe landing.
A little closer to home, we have heard about a Cockapoo by the name of Henry who is four years of age whose owner is called Amy Jones from Wales. Apparently, Henry has been paragliding over mountains in North Wales for over three years and has even taken to the sky in a paraglider in the Alps. He sounds like a seasoned participant in the sport.
If any of our clients have any similar experiences with their pets taking to the skies then we would love to hear about them here at AIB Insurance.