JBA has been building classically modelled cars since 1982. The original company, JBA Engineering, was named after the first letter of the surnames of the three partners that founded the company, Ken Jones, John Barlow and Dave Ashley. John Barlow later left the company and JBA Engineering continued producing kit car packages until 2004, when the company was sold. Since the sale no kit or factory-built cars have been made, and in 2007 JBA Engineering was dissolved by Companies House.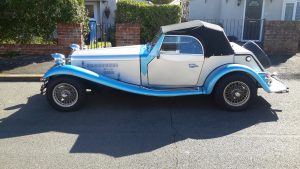 In 2008, JBA Motors set in motion plans to re-engineer and resurrect the JBA Falcon, and 2011 was relaunched at The National Kit Car Motor Show – Stoneleigh.
JBA Motors currently manufacture the BMW based JBA Falcon as both a kit package and as a fully factory finished car.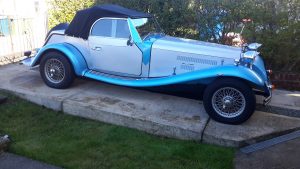 The JBA Falcon is a permanent fixture in the traditional roadster sector of the kit car market. It was one of the first Cortina-based kits appearing in 1982.
Here is a perfect example sent in by Mr K. The classic policy we offer cover agreed value, choice of repair and salvage retention. Mr K can sleep well at night knowing we have his lovely asset fully covered for any eventuality.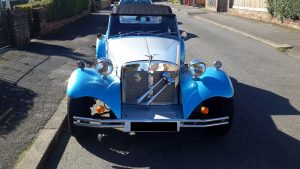 If you have a JBA Falcon that you need insured call our classic car/kit car team on 02380 268351 for a bespoke quotation offering all the optional extras with legal expenses cover, breakdown cover, excess protection, agreed value, choice of repairer, salvage retention and many more!