The car of the day is the brilliant Triumph GT6.
The Triumph GT6 is a 6-cylinder sports coupé built by Standard-Triumph, based on their popular Triumph Spitfire convertible. Production ran from 1966 to 1973. In early 1963 Giovanni Michelotti was commissioned by Standard-Triumph to design a GT version of their recently introduced Spitfire 4.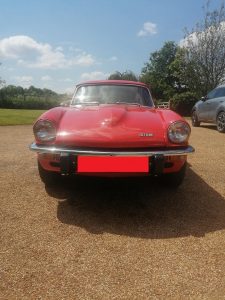 Mr G has the best cover on this beauty with agreed value, choice of repairer and also salvage retention through ourselves here at AIB. We can offer additional benefits such as replacement vehicle and excess protection making sure your gorgeous classics are fully covered and there is no need to worry!
Call our friendly and knowledgeable car team on 02380 268351 for a bespoke quotation and see what benefits we can offer you today!
Thank you to Mr G for sharing your lovely photos with us.