We are pleased to announce that K Drew Insurance Brokers Limited has been added to our panel of insurers.
K Drewe was established as far back as 1956 since which time it has grown to become a successful and highly respected firm of insurance brokers. They have an experienced staff that are renowned for providing a high quality customer service.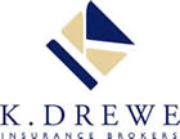 We are extremely selective when it comes to partnering with providers of insurance products and are proud to be associated with K Drewe. They provide innovative and flexible insurance products that are competitively priced.
Their particular expertise lies in providing award-winning insurance products for the niche leisure industry. For instance, they provide insurances for the following: –
• UK Holiday Homes
• Static Caravans
• EU Holiday Homes
• Park Homes
• Marine Pleasure Craft
• Motor Homes
• Classic Cars
These types of insurances are extremely specialist and require a bespoke range of features and benefits. So, if any of our clients are considering purchasing the likes of a motor home, narrow boat, vintage car or static caravan then K Drewe has the product that can be tailor made to meet their requirements providing them with complete peace of mind.
To find out more about them you can visit their website at: – www.kdibonline.co.uk or if you need insurance instantly call our team on 02380 268351.