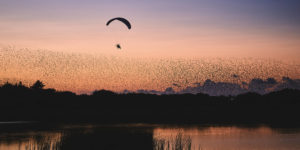 Apparently, until recently, no person has ever been fortunate enough to fly within a flock of birds. Well, that all changed quite recently when a paraglider by the name of Horacio Llorens who just happens to be a world champion in this exiting aviation sport was able to fulfill one of his ambitions and took to the skies to fly amongst a flock of starlings.
He was able to do this in Denmark where each year thousands of starlings gather and fly through the air in huge flocks. It is known as the "Black Sun" and it is a spectacular sight.
Mr Llorens who is 35 years of age and is from Spain has been paragliding for 17 years and has always wanted to experience flying with birds. In order to do so, he was able to gain the permission of the Ministry of the Environment in Denmark.
Of course there are no doubt many paragliders who have been able to fly in close proximity to a small number of birds but it is believed that nobody has been able to fly amongst thousands of birds. He must have felt like he was one of them as he flew his electric powered paraglider as dusk was happening.
The starlings fly from Norway to Denmark where the climate is warmer and where, when they fly around in a flock, there are so many of them that they make the sky darker. There are no doubt many people who make special trips to witness the "Black Sun" from the ground. However, those people were probably very envious of Mr Llorens as he flew amongst the starlings. There was even an ornithologist present to make sure that the starlings were safe when Mr Llorens took to the sky.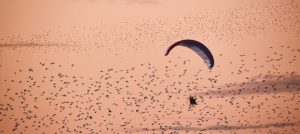 Congratulations to this paraglider for achieving one of his life-long ambitions.
If you are in need of airsports insurance why not give us a call at AIB Insurance on 02380 268 351 and speak with a member of our friendly staff who will happily arrange a quotation.