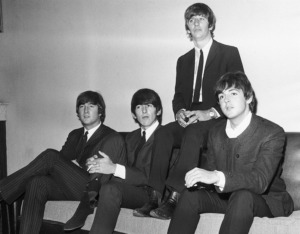 If you happen to be a fan of the Beatles who you may well remember had a few number one hits many years ago and you also have a keen interest in classic cars then you might wish to consider getting along to The Bond Street Sale at Bonhams on the 2nd December 2017. This is because a couple of classic vehicles once owned by two members of the pop group are being auctioned.
One of these is a 1966 Mini Cooper "S" Radford Conversion once owned by Ringo Starr between June 1967 and December 1968. Whilst all 4 Beatles had Minis this one is believed to have been converted to allow Ringo Starr to get his drums in it.
This delightful iconic vehicle has appeared at numerous locations over the years. For instance, in February 1984 it was on the Blue Peter television show and in 2001 it appeared on Top Gear. It was restored in 1991 and has been owned by the same family for a period of 40 years.
The car has several unique things about it such as a rear seat that folds down, electric windows, walnut dashboard, Manx alloy wheels and door warning lights to name but a few. Interestingly, the logbook has been signed by Richard Starkey – the real name of Ringo Starr.
You
will need a deep pocket if you are interested in bidding for this classic car as it has an estimated price of £90,000 to £120,000.
The other classic car once owned by another of the Beatles is a 1964 Aston Martin DB5 4.2-litre Sports Saloon. Sir Paul McCartney was the original owner. It has also been owned by the radio presenter Chris Evans who is a keen fan of classic cars –in particular Ferraris.
This wonderful sports car was originally purchased for circa £4,593. Sir Paul McCartney retained ownership of the car for 6 years. Restoration work was carried out in both 2002 and a further four-year period of restoration was completed in 2017 to the standard of concours. Apparently, the vehicle even had a record player.
To purchase this pristine classic sports car you will need even deeper pockets as the estimated price is between £1,250.000 to £1,500,000.
Whilst at the auction, you may want to cast your eyes over a 1959 Bentley S1 Continental Sport Saloon. Only 431 of these luxury vehicles were built but the added attraction of this one is that it was owned by the singer and pianist Sir Elton John and was then purchased by Lord Alan Sugar. In its heyday, this was a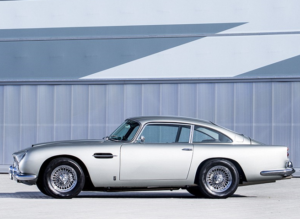 powerful car getting from 0mph to 50mph in just over 9 seconds and was capable of cruising at a top speed of 120mph. Sir Elton John owned the vehicle for 25 years from 1976 to 2001 before being bought by Alan Sugar who kept it until 2007.
If you are looking to purchase a classic car then why not get in touch with us here at AIB Insurance on 02380 268 351 to obtain a competitive quotation for classic car insurance from our extensive panel of insurers.