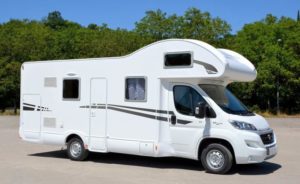 If you are the proud owner of a motorhome you may be interested to read that you are one of a growing number of holidaymakers who take to the road in such a vehicle to enjoy a break both here in the UK and overseas. According to statistics produced by the NCC that is the trade body for the motorhome, tourer, park home and caravan holiday home industries the number of people buying motorhomes rose in 2017 – in fact there has been a steady increase for a number of years.
Below are the statistics for new motorhomes registered here in the UK: –
2017                14,062
2016                12,332
2015                10,572
2014                  8,733
2013                  7,425
Below are the statistics for pre-owned motorhomes registered here in the UK: –
2017                55,449
2016                55,020
2015                48,839
2014                47,755
2013                45,572
The above organization also produced some interesting statistics for the number of new motorhomes registered in certain European countries that showed there has been an increase in certain countries when comparing 2017 with 2016: –
France             8.3% increase
UK                14.0% increase
Germany       15.5% increase
Italy               19.1% increase
It is estimated that there are in the region of 225,000 motorhomes being used here in the UK. Interestingly, there are about 555,000 touring caravans and 365,000 caravan holiday homes being utilized here in the UK. In 2016, it was estimated that people in Great Britain spent in the region of £2 billion per annum on caravan holidays and it is believed that about £6 billion is contributed to the economy here in the UK by the caravan industry every year.
Of course, as with most things that can be purchased, there is such a huge variance in the cost of buying a motorhome ranging from a few thousand pounds for a second hand vehicle to a six-figure sum for a brand new motorhome.
If you are considering investing in a motor home and it is not the type of holiday that you have tried before then you may prefer to hire such a vehicle for a week or two to make sure that touring around the UK and beyond is for you and your family.
Here at AIB Insurance we have many years experience in arranging motorhome insurance for numerous clients, We have a panel of reputable insurers so why not get in contact with us on 02380 268 351 and speak with a friendly, informative member of our team who will happily arrange a bespoke, competitive quotation without any obligation.