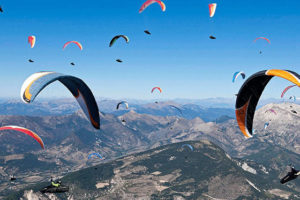 If you participate in paragliding then you will be well aware that there are numerous risks relating to your sport that could potentially lead to a serious accident taking place resulting in injury or death.  Fortunately, such incidents are few and far between both here in the UK and elsewhere around the world.
Well, who would have thought that when four paragliders from the Avon Hang Gliding and Paragliding Club took to the air on the 26th January 2018 they were to have a close encounter with a military jet. In fact so close that one of the paragliders apparently claimed that the heat from the jet's engine could be felt.
The encounter took place at around 12.33pm on the above date with a Royal Navy Hawk T1 military jet over Bratton Camp that is located near Westbury in Wiltshire at between 1,000 feet to 1,500 feet above the ground. The jet in question was in the throes of a practice bombing run.
Obviously the jet was travelling at a considerable speed and it flew between the four paragliders who were no doubt disturbed at such an incident. The near miss was actually filmed by one of the paragliders who had a camera on his helmet.
A comprehensive report was recently published by the UK Airprox Board a copy of which can be found on their website. We are sure that those of you who enjoy paragliding will find the report of interest. Apparently, the military jet pilot had not previously been aware that the four paragliders would be in the air. The cause was determined as being due to the pilot of the military jet not seeing the four paragliders and was assessed as risk category A.
Here at AIB Insurance we can arrange competitive quality insurance cover for those of you who enjoy paragliding. So, why not give us a call on 02380 268 351 and discuss your requirements with a knowledgeable member of our team. We look forward to being of assistance.