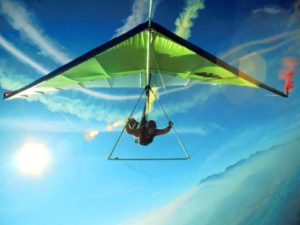 Hang gliding can certainly have its scary moments but when you take to the skies for your first trip in a hang glider accompanied by an instructor you would hope that you are in safe hands. Well, an American who recently made such a trip may beg to differ.
Chris Gurksy from the USA was recently on holiday in Switzerland and decided to go hang gliding for the first time no doubt to enjoy some of the beautiful green fields as well as the mountains. Unfortunately, the adventure did not quite go according to plan due to a serious oversight.
Regrettably, his safety harness was not attached to the hang glider and this was not something that was noticed by the instructor until it was too late. The pair took off from the edge of a mountain several thousand feet tall. By the time they realized something was not quite right they were unable to stop getting airborne.
Mr Gurksy found himself holding onto a bar with one hand and with the other could be seen holding onto the back of the instructor who was having difficulty controlling the hang glider.
Apparently, both were airborne for over 2 minutes during which time Mr Gurksy was no doubt very scared and possibly thought that his life was about to come to an untimely end. Fortunately, this did not happen but when the hang glider descended Mr Gurksy's feet hit the ground at a speed of around 45 mph and he ended up tearing his left bicep tendon. He also broke his wrist that was no doubt very painful.
Some of you may be surprised to read that Mr Gurksy would like to take to the skies again in a hang glider when he will hopefully have a more enjoyable flight. He is obviously a very brave man as, having gone through what he did that could have resulted in his death, there are possibly a lot of other people who, having had the same worrying experience, would never want to see a hang glider again. We wish him a more successful and uneventful flight when he next gets airborn in a hang glider.
Here at AIB Insurance, we have many years experience in arranging cover for a range of airsports. So, whether you are looking for cover for the first time or your existing policy is shortly up for renewal, why not give us a call on 02380 268 351 and have a chat with a knowledgeable member of our team who will happily obtain a no-obligation, competitive quote from one of our vetted insurers. We look forward to being of assistance to you.