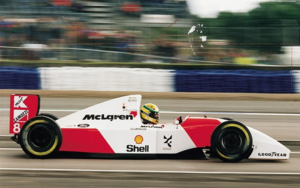 Those of you with a long term interest in Formula One racing will be aware of just how good a driver the great Ayrton Senna was. He was born in Brazil and won three Formula One world championships back in 1988, 1990 and 1991 whilst at the wheel of McLaren racing cars. Regrettably, he was killed on the 1st May 1994 at the age of 34 whilst driving for Williams at the San Marino Grand Prix. He was held in such high regard in the country of his birth that there were three days of national mourning in Brazil.
Well, you may be interested to read that one of the Formula One racing cars driven by Ayrton Senna – a 1993 McLaren-Ford MP4/8A is to be auctioned by Bonhams at their Monaco sale on the 11th May 2018. This was the final season that he drove for McLaren and in the 1993 Formula One season he drove the car on eight occasions. It was rumoured he was being paid in the region of $1 million a race.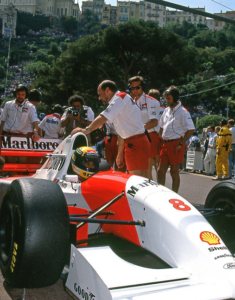 It is rather fitting that this car should be offered for sale in Monaco as Ayrton Senna actually won the prestigious Monaco Grand Prix in that very same vehicle in 1993 making it almost 25 years since that wonderful occasion. That meant he had won six Monaco Grand Prix braking Graham Hill's record. Incidentally, the driver who followed Ayrton Senna across the finishing line in second place was none other than Damon Hill – son of Graham Hill.
It is going to be very interesting to see what sort of attention this legendary racing car is going to attract at the above auction and what sort of price it is eventually hopefully going to be sold for. Needless to say, it will no doubt carry a premium due to the connection with Ayrton Senna.
If you are considering buying a classic or high performance vehicle then why not get in touch with us here at AIB Insurance on 02380 268 351 where we will be delighted to discuss your requirements in respect of insuring the vehicle. We have an extensive panel of insurers so we would be able to help source a competitively priced quotation with excellent cover.