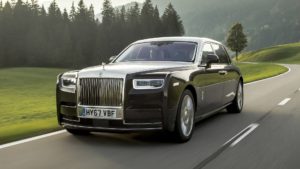 Here in the UK and in many other countries around the world, some of the roads are becoming so congested that it can prove difficult to get from A to B on time in a normal vehicle such as a car. This is a particular inconvenience if you are the owner of a business and need to get to an important meeting by a specific time that could have a negative financial impact if you do not arrive as scheduled.
Unfortunately, not many companies are able to afford to buy a helicopter to transport their senior executives a couple of hundred miles from one city to another or to get them from one side of London to the other for an important meeting with a potential new client.  Whilst taxi drivers do the best that they can to get people to their destinations and know many alternative routes, they sometimes cannot avoid the many traffic jams we encounter here in the UK almost on a daily basis.
Well, it sounds like Rolls-Royce that is renowned for building luxury cars and aircraft engines amongst other things is hoping to change all that. This is because the company is looking to build an aircraft that could, amongst other things, be used as a flying taxi.
It is an EVTOL that stands for Electric Vertical Take-Off and Landing aircraft and it is hoped that such a vehicle will be available for commercial use in the early to mid 2020s. The concept has been unveiled at this year's Farnborough International Airshow.
An M250 gas turbine is utilised to produce electricity that provides the power for six propulsion/lift motors. The wings will be able to rotate 90 degrees to allow for vertical landing and take off as well as forward propulsion. It is estimated that the vehicle could transport up to 5 people a distance of around 500 miles at a speed of up to 250 mph. So, with that sort of range, it could be used for trips in the UK and for getting to other European countries.
Potentially, the EVTOL could have many different uses in addition to providing a taxi service. For instance, it could be used by the military, on a personal basis, and for moving cargo.
We wish Rolls-Royce every success with this project and hope to see the EVTOL take to the skies in the not too distant future. We will keep you updated.