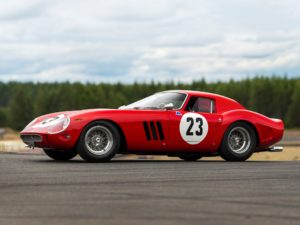 It was only back in June that we wrote about a classic 1963 Ferrari 250 GTO that was sold privately for about £52 million making it the most expensive car in the world yet here we are again telling you about another of these classic vehicles that has been sold and has broken another record.
This time, a very rare 1962 Ferrari 250 GTO was sold for a record auction price of $48.4 million. The RM Sotheby's auction took place at Monterey, California, USA on the 24th to 25th August 2018 and the wonderful classic vehicle attracted a considerable amount of interest as such cars always do. The sale price was in excess of $10 million more than the previous record.
The car had remained in the possession of the same owner for around twenty years during which time it had no doubt been well looked after. Initially, bids of $35 million were sought to get things going. There were three telephone bidders in particular who were outbidding each other over a period lasting almost 10 minutes before the car was sold for $48,405,000.
As we stated back in June, there were very few of these classic Ferraris built which is no doubt one of the reasons why they command such high prices when they do come on the market which is not normally all that often.
You cannot help but wonder just how long it will be before a classic Ferrari 250 GTO sells for $100 million somewhere in the world. Needless to say, we will do our utmost to let you know should this happen.
Here at AIB Insurance, if you are looking for classic car insurance, why not give us a call on 02380 268 351 and speak with a member of our experienced team who will be pleased to discuss your requirements and provide a bespoke, competitive quotation without any obligation. We look forward to hearing from you and being of assistance.