Motorhomes and the lifestyle they offer, are more popular than ever before; there has never been a better time to take a mini-break and explore the many wonderful attractions right here on your doorstep. For those of you who love to get away, with spontaneity but retaining home from home comfort, the motorhome lifestyle is unparalleled. It also enables those of you with other outdoor hobbies such as mountain biking, kayaking, or climbing to easily transport your equipment, still having the creature comforts of home at your disposal.
Renowned motorhome heavyweights, Chausson, AutoSleeper & Pilote, are all bringing new models and ranges to the market for 2021. All kitted out with jaw dropping luxurious fittings and interiors, gadgets and comforts, these new models will ensure you want for absolutely nothing.
PILOTE
Top European motorhome manufacturer, Pilote has been trailblazing its mark in the UK motorhome industry for over 30 years, blending classic staples with innovative customisable features. During this time, many models and styles have been made available and adapted to fit the needs of the UK market, proving its importance to such a major player.
Evidence
2021 sees the exciting introduction of the Evidence branding, featuring a spec especially designed to suit the demands of the British motorhome owner. Available on selected models: the P650C, the P626D, the P696D, the P740FC and the G740FC, Evidence includes an incredible specification list at an 'all-in' package price. Built around the Fiat 9 speed automatic gearbox with a 140bhp engine, the specification includes canopy, energy pack with a solar panel and large, 95Ah battery, reversing camera, chassis pack with cruise control and double airbags, comfort pack with cab blinds and an electric step… and much, much more!
Pacific and Pacific + Range
Pilote P720FGJ
The Pilote Pacific range sleeps up to five people making it ideal for couples and small families. Brand-new for 2021, the Pilote P720FGJ is a 7.2m two-berth motorhome, with twin beds at the rear and a face to face lounge-dinette that seats four. The bathroom features an innovative pivoting wall that reveals a shower hidden on one side with the sink and toilet on the other.
Pilote P626D
The compact 6.2m Pilote P626D, fresh for the 2021 season features innovative storage and sleeping arrangements. Shorter in length than a long-wheelbase 6.3m panel van means it's easy to park but retains the benefits of a coachbuilt body. An electric drop-down bed is above the large lounge, which can seat up to six people.
Galaxy Range
Pilote are synonymous with customisable, high-quality motorhomes and the 2021 Galaxy range is no different. These top-level vehicles combine luxury with practicality. Every model in the 2021 Pilote Galaxy line-up hosts four belted seats, exceptional panoramic views, and a double-insulated heated double-floor, a Pilote exclusive. Modern looking black hardware, additional lighting and storage and new anti-slip fabrics under seating, all feature as new for 2021.
MERCEDES AUTO-SLEEPER
Auto-Sleepers' latest Mercedes coachbuilt range provides the perfect opportunity for travelling in style. Depending on the layout you are seeking, the range is very likely to deliver the right combination. Mercedes is rightly held in high regard for its engineering prowess and the Mercedes motorhome chassis delivers the ultimate in touring luxury. Six models are available, fully enhanced to offer unrivalled home from home comfort. Features include beech sprung slats on beds, reflex foam upholstery, touchscreen displays, GRP interior walls, habitation air conditioning and many more… as standard. All include the powerful 163bhp Euro 6.2 engine, as well an optional seven-speed automatic gearbox.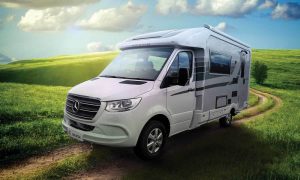 1 – The Bourton delivers a spacious lounge which quickly converts at night to provide a choice between full-length single beds or a double. It also features a well-specified end kitchen. What's more, the Bourton packs all this into a body length of just 6.5m, meaning that it's easy to both drive and park.
Height: 2860mm / 9'5"
Width: 2660mm / 8'9"
Length: 6485mm / 21'3"
Seats: 2
2 – The Malvern camper van offers the decadence of a French bed and a large front lounge and fully equipped kitchen. The jewel in the crown is a luxe bedroom with side washroom, boasting a separate shower.
Height: 2860mm / 9'5"
Width: 2780mm / 9'1"
Length: 7330mm / 24'1"
Seats: 2
3/4 – The Burford and The Burford Duo offer the space and comfort normally associated with a tag axle Motorhome, on a lighter rear wheel drive, single axle Mercedes chassis. A spacious lounge is up front, with a fully equipped kitchen. This leads through to a stunning rear bedroom with a full width en-suite washroom,
Height: 2880mm / 9'6"
Width: 2780mm / 9'1"
Length: 79200mm / 26'0"
Seats: 2
5 – The Winchcombe features a large, luxurious bathroom featuring a double shower, a centrally positioned high end kitchen and roomy lounge, delivering homely, yet magnificent comfort.
Height: 2860mm / 9'5"
Width: 2780mm / 9'1"
Length: 7330mm / 24'1"
Seats: 2
6 – The Stanton is the most compact model built on the Mercedes rear wheel drive chassis and offers a similar layout to the Bourton. With no compromise spared on the space available inside, it features all flagship specifications, including an optional fully automatic gearbox.
Height: 2900mm / 9'6"
Width: 2660mm / 8'9"
Length: 5980mm / 19'7.5"
Seats: 2
CHAUSSON
40+ years of existence and the production equivalent of 50,000+ motorhomes, Chausson are renowned for their unique French style and flair, alongside award-winning levels of exceptional quality, comfort, and reliability. This remains the case for 2021, seeing the low-profile range broadened, offering four brand-new layouts to the line-up.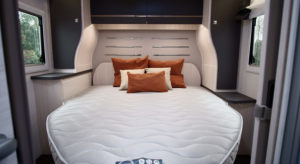 The 648 If you are looking for an island-bed motorhome, you'll love the 648; it's less than 7m long and offers a 160cm-wide bed, and a face-to-face 'SmartLounge'.
The 788 is less than 7.2m in length and has a similar layout plus a transverse double-door washroom. This model is equipped with the 'SmartLounge' and 'EasyBed' as standard. The clever 'SmartLounge' concept provides comfort, attractiveness and practicality, seeing the two bench seats easily transformed into comfortable seats for road travel (Isofix certified). The 'EasyBed' system lets you raise or lower the bed to adjust the size of the garage area. Use a crank to adjust the size of the area; make it higher to transport bikes, or lower for bags and camping equipment.
The 644 less than 7m long, boasts a unique layout with five forward-facing seats for travel and a transverse double bed at the back that can be lifted to provide access to the garage underneath. The face-to-face lounge in the front includes five travel seats (with one facing backwards and a drop-down double bed.
The 777GA meanwhile, is similar to the 788 (again, less than 7.2m in length) with large twin beds (at 90cm wide) and a huge, 2159-litre garage.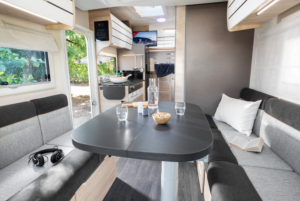 All of these models are available in the three unique, Chausson 'strengths':
First Line, Titanium VIP and Titanium Premium.
The First Line range takes the Chausson classic layouts and gives them an exciting, new, fresh interior, complete with an award-winning Ford based chassis and all the essential equipment as standard, at an unbeatable price.
Titanium VIP includes the First Line equipment but boasts more functionalities. A 140hp engine, automatic gearbox, grey side panels and 16-inch alloy wheels and Traction+. Titanium is a legendary series from Chausson, combining great design with a full range of equipment. This exceptional series is available for the first time as a VIP version, a level of equipment which not only offers the essentials as standard but also a large number of features which will make your life easier on holiday.
Titanium Premium has all the First line and Titanium VIP specs but includes a 170hp engine with an improved luxury entrance door, wraparound cab blinds, more comfortable mattress with premium furniture and textiles, and an extractor fan skylight in rear bedroom.