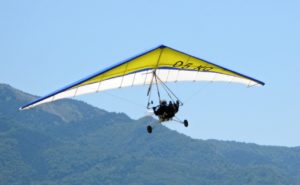 There are no doubt many schools around the UK at which they encourage their pupils to get involved in constructing things but there surely cannot be many that have built something as large or as complex as a working, flying microlight. Well, that is exactly what has happened at Benenden School.
The boarding school is located in Cranbrook in the Kent countryside and has 551 girls aged 11 to 18 years. It dates back to 1923.
It was back in September 2016 that work started on building the micolight aircraft with 28 girls giving up two hours of their time after school one evening a week. Their work was supervised by a number of members of staff. The British Microlight Aircraft Association (BMAA) was also involved and actually owns the finished microlight. It is interesting that the registration mark on the plane is G-GRLS – what a wonderful idea.
On Sunday the 1st July 2018 all the girls hard work came to fruition when the microlight, having gone through various safety tests, took to the skies taking off from Headcorn Aerodrome in Kent. Various instructors took the pupils up in the micolight on different flights so that they could all experience a trip in the light aircraft. Even the headmistress got to go up in the aircraft. No doubt a wonderful time was had by all and here at AIB Insurance we would like to congratulate the girls on completing such a wonderful project. What will the girls want to build next?
Those of you who are either the owner of a microlight or are considering buying one will no doubt wish to ensure that it is suitably insured. In this respect, why not give us a call on 02380 268 351 and we will be pleased to discuss your requirements and arrange to provide a competitive quotation for microlight insurance.