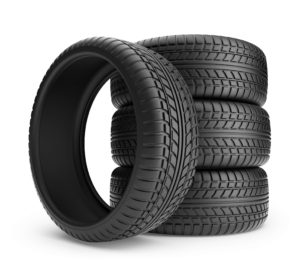 As a motorist, you will hopefully be aware that the tyres on your car plus the spare wheel must have a tread depth of at least 1.6 mm to make sure that they are legal. However, the recommended minimum tread depth on a tyre is considerably more at 3 mm.
Research shows that the stopping distance increases significantly when comparing a car that only has a tyre tread depth of 1.6 mm than if the tyres had a tread depth of 3 mm.
According to a Road Safety Factsheet published in October 2017 by The Royal Society for the Prevention of Accidents. Back in 2016, there were 120 serious injuries and 8 deaths due to road traffic accidents believed to have resulted from either under-inflated, defective or illegal tyres.
Well, you may find it of interest to read that some research has been conducted on behalf of the price comparison website Confused.com relating to tyre tread depths between the 27th March 2018 and the 29th March 2018 and the information revealed will no doubt concern you.
The research was undertaken in 10 cities in the UK with 100 vehicles being spot checked in each city making a total of 1,000 vehicles. The cities in which this research was carried out were Birmingham, Brighton, Bristol, Cardiff, Edinburgh, Ipswich, Leeds, London, Manchester and Newcastle.
Of those vehicles inspected, 20.9%, over a fifth, were found to have a minimum of one tyre that had a tread depth of under 3 mm. Even more worrying was that 3% of vehicles checked were found to have at least one tyre with a tread depth of below 1.6 mm.
Edinburgh had the highest number of vehicles that had a minimum of one tyre with a tread depth of less than 3 mm – 27%. Manchester was in second place at 26%. Birmingham was in third place at 23%. Brighton and Newcastle were in joint fourth place at 21%. Bristol was in 6th place on 20%. Ipswich was in 7th place on 20%, Cardiff and Ipswich were in joint 8th spot on 19%. In 9th place was Leeds on 17% and in 10th spot was London on 16%.
In joint first place for having at least one tyre with a tread depth of less than 1.6 mm were Ipswich and Newcastle on 5%. In joint third place were Edinburg, Leeds, Manchester and Brighton with 4%. In joint seventh spot were Bristol and London on 3%. In ninth place was Cardiff on 2% and in tenth spot was Birmingham with 0%.
You may or may not be aware that there are severe penalties for being caught with a tyre that has a tread depth of below the legal limit of 1.6 mm. You could receive three penalty points on your driving license plus a fine of up to £2,500 for every illegal tyre. This in turn could lead to an increase in your car insurance premiums. So, you may wish to have the tread depth on all your tyres checked to make sure that they are satisfactory.