If you have visited the city of Dubai in the United Arab Emirates you will no doubt be aware that it has a reputation for having a lot of high net worth individuals residing their. Over the years, a considerable number of people from the UK have also gone to work there for an extended period of time on extremely lucrative contracts.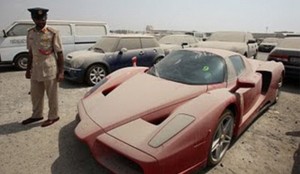 Many live in up-market accommodation and also drive around in hugely expensive super-cars. These vehicles are often purchased with the assistance of some form of finance package with the repayments being comfortably affordable due to the large salary packages many of these expatriates are on.
However, with falling oil prices and the rising cost of living, a number of people have been unable to maintain their car repayments. Unfortunately for them, under the legal system in the UAE, if you are unable to keep up your repayments on the likes of a car loan, pay the minimum monthly payment on your credit card or if a cheque is returned unpaid that you have written out and there was insufficient funds in your bank account to cover the payment you could actually end up in prison because you are committing a criminal offence.
Apparently, rather than be faced with potentially having to spend a period of time behind bars,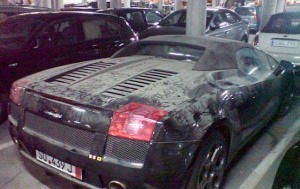 some expats are booking a flight out of Dubai airport with a view to never returning to the country. Upon arriving at the airport in their luxury car they just leave it in the car park gathering dust. After fifteen days, the abandoned vehicle is impounded by the police and, if the owner does not appear to claim it back, the car is sold for a knockdown price.
It is estimated that there are anything up to 3,000 executive cars impounded each year in Dubai that have been left to build up a light coating of sand of which there is plenty in the UAE.
The sorts of vehicles include your usual BMWs, Mercedes Benz and Audis but also the likes of Lamborghini, Maserati and Porsche plus a Ferrari Enzo valued at around a £1 million. Sad as the above situation is, it certainly presents an opportunity for those doing well in Dubai to get a luxury car for a fraction of its true value