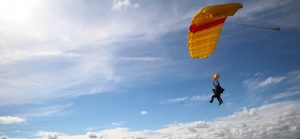 Those of you who enjoy the thrill of parachuting will be aware of the dangers and that on rare occasions things can go wrong. Well, that would appear what happened to an Army Parachute Display team member recently here in the UK.
The parachutist, who has not been named, was parachuting over Eastbourne in East Sussex and it was intended that those taking part would land in the sea. Unfortunately, this particular parachutist seemed to get into difficulty whilst participating in a 5,000 foot jump and ended up descending to dry land. Miraculously, the person involved is said to have only suffered a few minor grazes. Apparently, the St Johns Ambulance Service and the police provided assistance.
Let's hope that the person involved makes a full recovery and is soon taking to the skies again.
Coincidentally, it has also been reported that a female skydiver near Quebec, Canada who is 30 years of age has been involved in a skydiving accident that also involved a jump from a similar height. Apparently, not only the main parachute but also the reserve one failed to open and she plunged to the ground landing in trees. Fortunately, she has survived but has a number of broken bones that will probably not come as a surprise to our readers. We wish her a speedy recovery.
Here at AIB Insurance, we have many years experience in arranging specialist cover for a number of airborne sports including the likes of skydiving and parachuting. If you are looking to take up the sport or your existing cover is shortly due to be renewed then why not get in touch with us on 02380 268 351. One of our experienced members of staff will be pleased to discuss your insurance requirements in detail and provide a bespoke competitive quotation for your consideration without any obligation. We look forward to hearing from you.