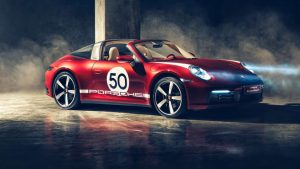 In a world of headlines reserved for the powerhouse GT2, GT3, RS, Turbo and Turbo S models,how do you make that bread and butter 911 Carrera special, you call Porsche Exclusive Manufaktur. The all-new 2020 Porsche 911 (Generation 992) Targa 4S Heritage Design is the first of 4 classic-inspired special editions and announces the expansion of Porsche's 'bespoke tailoring' Exclusive Manufaktur division.
The expansion of Porsche Exclusive Manufaktur follows on from the global success of the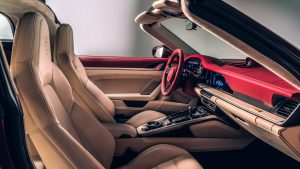 limited-edition 911 (Generation 991) Speedster Heritage Design, which since its launch have been trading at upwards of £300k (£200k list price). The Speedster's Heritage Design concept provided a perfect testbed for how the design features would work on Porsche fans and customers. Porsche are planning 4 special editions from Exclusive Manufaktur over the course of the 992-generation 911's lifetime. These will appear on different 911 variants and celebrating different designs from the 911's history, blending modern 911 technology with design elements of the past.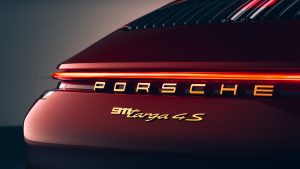 The 992 Targa was the perfect model with its retro Targa styling to be the first Heritage Design production model. It is launched with details from the 50s and 60s, with an exclusive Cherry Red paintwork, inspired by the early shades of the Classic 50's Porsche 356. The Porsche logo is in its old font and brake callipers in black, as back in the 50sthere weren't any red or yellow brake callipers. A major design feature is the historical white livery and lollipop number stickers on the doors, where customers can specify any numbers. The Heritage Design continues into the interior with red leather and corduroy seats, as used in the 356, along with interior and exterior parts in gold trim as they once were. A unique badge on the rear lid has been reintroduced, which were given back in the day to 356 owners who had reached 100,000km in their cars.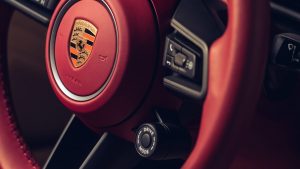 The 911 Targa 4S Heritage Design is limited to 992 global units, which is the eighth-generation 911's internal designation. UK prices start from £136,643, with UK deliveries expected to start in the autumn. It is £26,918 more than a standard Targa 4S, with customer likely to add a sizeable number of additional cost options extras to their final specifications. It shares the same mechanical unchanged specification from the Targa 4S's chassis and powertrain, paired with either the eight-speed PDK or seven-speed manual transmission. Deploying it's 444bhp 3-litre twin-turbocharged flat-six engine and all-wheel-drive system to 189mph and a 0-62mph in 3.6 seconds.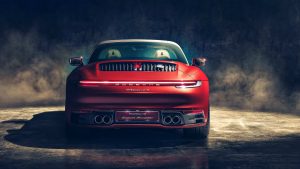 The Porsche Exclusive Manufaktur team expect the future rollout of these bespoke models to be up to two years before the next car. Porsche Exclusive stands for passion and craftsmanship, so keeping these models exclusive is key to that strategy. The future range expected to look back at the 60s, 70s and 80s based on other 911 variants. These special editions appeal to customers who are fascinated by Porsche's rich heritage, its classic design features and want these in modern cars. This might also inspire people who have not considered a Porsche 911 with this heritage style that brings back something cool from the past.