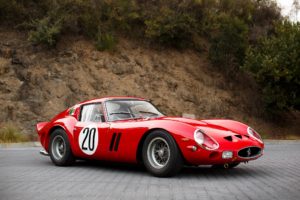 Those of our customers who are classic car enthusiasts will no doubt be aware that classic Ferraris are highly desirable vehicles with many commanding high prices as and when they are offered for sale. The Ferrari 250 GTO is reputably the most sought after of them all with, it would be fair to say, a value far exceeding what most people can afford to spend. For instance, back in 2013, it is believed that one was sold privately for around £40 million.
Well, it is believed that that figure has recently been exceeded with a 1963 Ferrari 250 GTO fetching in the region of £52 million. This would make it currently the world's most expensive classic car. Apparently, when originally sold brand new, this make and model of car could be bought for around $18,500. We are sure that you will agree this is a significant increase in value over the years and has probably provided a greater investment return than any other asset.
Who has paid that sort of money for such a wonderful vehicle? Well, it is believed that a businessman called David MacNeil from the USA is now the proud owner of this classic sports car. He owns a business that sells car mats and, by the sounds of things, appears to have made a considerable amount of money doing so.
Only thirty-nine Ferrari 250 GTOs were built between 1962 to 1964. So, it is an extremely rare classic vehicle with this no doubt having a considerable bearing upon its value. These models were capable of rocketing to a top speed of around 174 mph.
This particular Ferrari 250 GTO actually won the 1964 Tour De France so this will no doubt have had an impact upon its value. It has also taken part in many other motor racing events.
The premium to insure such a classic car would no doubt be considerable and there are possibly not too many insurance companies that would be prepared to take on the insurance risk. In this respect, if you are the proud owner of any make and model of classic or vintage vehicle and require a quotation for classic car insurance then why not get in touch with us on 02380 268 351 and one of our experienced members of staff will discuss your requirements with a view to doing all that can be done to obtain a competitive quotation from our panel of insurers.