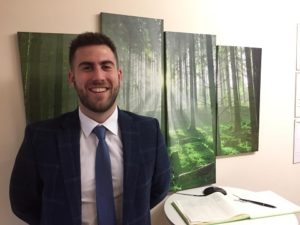 Airsports Insurance Bureau are delighted to announce expanding our Private Client Insurance team with the addition of Relationship manager, Byron Cuff.
Byron's technical knowledge and experience of the finance sector will assist in managing, developing and growing the private client division. He will also be working with the established team of Client Advisors to develop and further strengthen relationships with our leading insurer panel.
Byron comes to AIB with over a decade of experience in financial services. In his previous position, Byron was with Simply Health as a corporate client Relationship Manager and prior to that spent 7 years with BeWiser Insurance as Training Manager and latterly, Brand Manager.
AIB spokesperson Megan Greer said: 'We are delighted to welcome Byron to the Private Client Team in Eastleigh. The appointment is a reflection of our significant growth within the high net worth personal lines arena and our desire to ensure that we continue to offer our clients the best customer service on the market. Byron is a strong addition to the team and his expertise and experience will help continue to take our business forward.'
Byron added: "I've known the management at AIB for many years and watched the company expand and grow so am delighted to be joining such an ambitious business where I can really add value and hit the ground running.  I'm really excited developing new business and taking current business to new heights."
Byron lives locally in Andover with his partner Klara, has a third nipple, typically supports Manchester United Football Club and is allergic to bees.  Some years ago he once saved two people's lives in the space of a week.  He noticed a 12 year old boy drowning in a swimming pool and jumped in and saved him and then the following day returned to his car whilst shopping to find a man on the ground having a heart attack.
All the very best of luck Byron.