Despite living in a world of global economic uncertainty, we are excited to announce that due to our continued growth, we have recently taken on three new recruits. This is largely thanks to our excellent business partners, insurers, and amazing clients.
We would like to introduce Ross Hoskins, Adam Thorp and Kimberley Brown. They have each passed their probationary period with flying colours and are already proving to be a great asset to the business.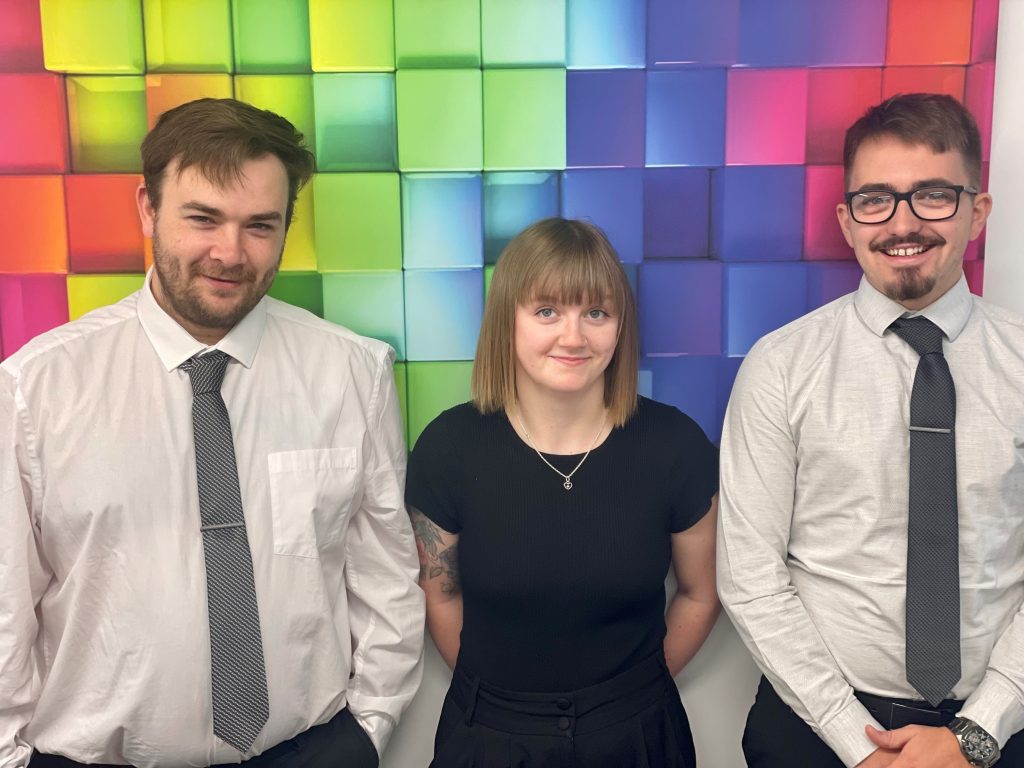 Welcome Ross Hoskins – Insurance Consultant
Ross joined our team in January 2022 having spent 4 years on the road within the construction industry installing VNA guidance systems (Yep, we didn't know either – it's the wire that stops trucks driving into large racking!). Prior to this he was a concrete floor finisher. With his diverse set of skills, Ross now plans to immerse himself in the world of insurance and will be taking his insurance exams as part of his professional development. Best of luck Ross!
"What prompted you to get into insurance?"
"I love talking and interacting with people, so this was the perfect job for me."
"What one item would you one day love to insure?"
"My dream dog, a Rhodesian Ridgeback."
"What did you want to be when you were younger?"
"Can I say taller? Probably a footballer."
Fun Facts: 
Ross was born and bred in Lyndhurst, Southampton
He lives with his girlfriend Ashleigh and dog Bandit (Great name!)
He is a huge Southampton FC fan and loves Formula One
His favourite Saints player is James Ward-Prowse
George Russell is his favourite Formula One driver
His favourite music is pop-punk
He decided once on a drunken holiday to get a Blink 182 tattoo!
Welcome Adam Thorp – Insurance Consultant
Adam joined AIB Insurance in March 2022 having decided upon a complete career change due to the huge impact that Covid had on his life and career in retail and as a Doorman. With his background in security, Adam has a passion for customer service which is a great motivator for him in his new role.
Director, Kirby De-Gray Birch commented: "Adam has a natural enthusiasm which is infectious and has settled brilliantly into our team.  He is fast learning all aspects of our business including motor, fleet, and home.  His strong communication skills have stood in excellent stead and I'm excited to watch his career develop".
"What prompted you to get into insurance?"
"Good balance to work and home life with the added job security of a brilliant industry."
"What one item would you one day love to insure?"
"An aeroplane or jet would be cool!"
"What did you want to be when you were younger?"
"An archaeologist."
Fun Facts:
Adam was born and bred in Poole and attended Ferndown Upper School in Dorset
He has a passion for Dungeon and Dragons and calls himself a lover of all things nerdy
He loves listening to J-pop (Japanese music)
He is currently doing everything he can to pass his driving test
Welcome Kimberley Brown – Insurance Consultant
Kim joined the business in April 2022 and has already hit the ground running. She joined AIB having worked for almost 5 years in the healthcare industry.
Kim has a passion for Japanese imported cars so insuring grey imports is something that really interests her. She is looking forward to developing her career within the insurance industry.
"What prompted you to get into insurance?"
"The hours and a new challenge were really exciting to me."
"What one item would you one day love to insure?"
"I'd love to insure a 4×4 Hummer. My colleagues around me have, and I'm always green with envy!"
"What did you want to be when you were younger?"
"A musician – singer song writer."
Fun Facts:
Kim was born in Newcastle
She lives with her boyfriend, James in Southampton
Kim once met Taylor Swift whilst attending her Fearless concert. She snuck around the back to sneak a glimpse as she got out of her tour bus. Not only did she see her, but she also got a hug, high five and a signed arm!
She has been told she is a lookalike for American actress, Dakota Fanning