Vehicle registration for United Kingdom including Scotland, England, and Wales is the authoritative responsibility of the Driver and Vehicle Licensing Agency (DVLA). UK road user will have to generally register a car, truck or any other vehicle as soon as they've:
You usually register vehicle in UK by filling up forms and submitting them to DVLA. The forms you are liable to submit depend on your circumstances.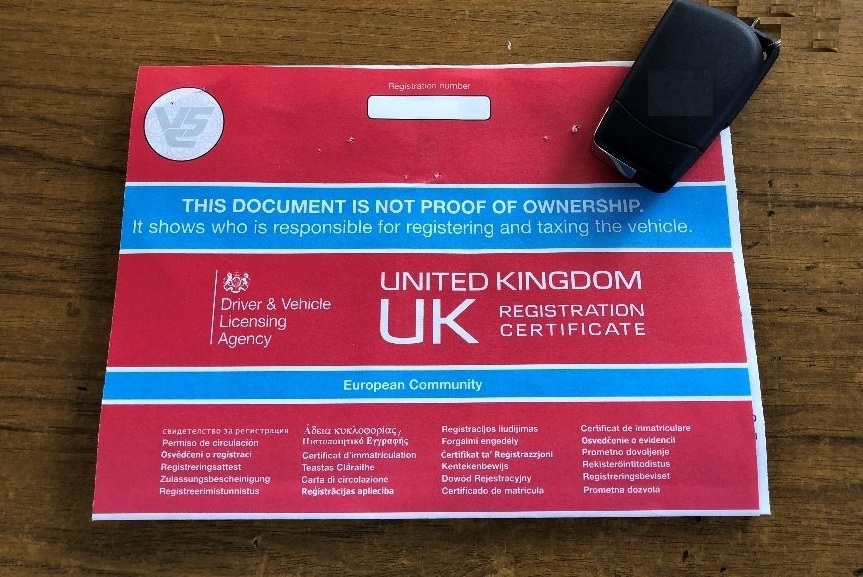 DVLA may require scrutinizing your vehicle to:
Validate the vehicle exists, has been congregated into a complete vehicle and the log book (V5C) is under your name

update their accounts because of the alterations you've made to the vehicle

The authority will send the applicant a letter if they necessitate doing this. The applicant will not have to pay a fee.

Use separate registration programs for the motor trade if you're a vehicle manufacturer, VAT-registered trader or an importer.
So, as mentioned that different vehicle registration schemes are used depending on the applicant's circumstances. Here, are a number of handouts to go through before the next session of your vehicle registration.
NEW VEHICLE
The New registrations scheme applies for vehicle which may not have been registered before with DVLA if it's:
brand new

imported

a kit car

been radically altered

a classic vehicle
If your vehicle is a new heavy goods vehicle (HGV), you also require recording the details of your HGV with the Driver and Vehicle Standards Agency (DVSA).
Usually, the dealer itself will arrange registering a brand new vehicle for you. If they do it for you, you'll receive a log book aka (V5C registration certificate) within 45days. If you do not get one within stipulated timeframe, contact DVLA, too much delay might make DVLA unable to investigate properly. However, if the dealer does not do it, you can register the vehicle yourself following the process below.
Making an application

For any kind of newly registered vehicle, you must fill in either a:

V55/4 form for registering a new vehicle, including brand new, imported vehicles and newly-built (kit) cars

V55/5 form for registering a used vehicle, including rebuilt or altered vehicles, used imported vehicles and older classic vehicles that have never been registered

Provide photo copies of identity documents
Documents you can use to verify your name includes:
Birth certificate

Passport

marriage certificate

decree nisi or absolute

present UK paper driving license (not a paper counterpart)
Attach the copy of your photo card driving license with the application form to verify your identity. If unable to do this, you must send in copies of one document that validates your name and address.
Documents you can use to confirm your address include:
Recent bank statement (within the last 3 months)

Recent Building society statement (last 3 months)

Recent Utility bill (last 3 months) – for example electricity, landline, gas, water

Council tax bill for current year

Medical card
Moreover, one can fill in form V959 – 'Declaration of name and address check' as an alternative to these documents to confirm your identity if you're a current DVLA trade plate holder.
Supporting documents required for all vehicles such as :
Credential of newness (or declaration of newness for imported vehicles)

a current MOT (

Ministry of Transport

) certificate, if the vehicle is over 3 years old & (over 4 years old in Northern Ireland)

a cover note or insurance certificate (if registration of the vehicle is to be made on an address in Northern Ireland)

any documents relating to the vehicle, for example- build plans if it's a kit car
After you've applied, DVLA might inspect your vehicle. After approving the application, DVLA will send you a V5C registration certificate (log book).
USED VEHICLE
You are required to tax a used vehicle before you can use it on the UK roads. The manner a used vehicle is registered to you reckons with whether it has a V5C registration certificate.
The seller can register your vehicle online or by post.
To register online:
The seller will need to:
fill in section V5C/2 aka 10 ('new keeper supplement') and give it to you

destroy the V5C registration certificate (logbook)
The vehicle record is immediately updated by the DVLA and a new V5C will be send out to you within 3 to 5 days.
REBUILT OR ALTERED VEHICLE
To use your pre-owned, altered vehicles on the UK roads, it must comply with certain regulations. You need to register your rebuilt vehicle following all the instructions for registering a new vehicle.
In addition, you must append the following with your application:
form V627/1 – 'Re-Built vehicle inspection report'

evidence of type approval, if needed

photographs of the vehicle

registration certificate for the original vehicle

authenticated receipts for any parts used
Send your application to DVLA.
A built up vehicle can keep its original registration number if you are able to prove you've used:
the original unaltered body shell or chassis (car or light van)

a new body shell or chassis of similar specification as the original (car or light van)

the original unaltered frame (motorbike)

a new frame of similar specification as the original (motorbike)
You must also compulsorily have 2 other crucial components from the original vehicle from the following lists.
For cars or light vans:

Engine

Transmission

suspension (front and back)

steering assembly

axles (both)

For motorbikes:

Engine

Wheels

Forks
DVLA will provide your vehicle a 'Q' prefix registration number in case you do not fulfill the aforementioned conditions for keeping the original registration number.
Your vehicle must clear the admissible type approval test to get a 'Q' registration number. Vehicles with a Certificate of Destruction (CoD) should never arrive again as complete vehicles or be presented for registration. You are not allowed to keep the vehicle original registration or identification number.
GOODS VEHICLE
If you are in Scotland, England, Wales and Northern Ireland and drive a goods vehicle which is over 3.5 tones in weight and it is used to transport goods as part of a business, you are needed by the UK convention to have a Goods Vehicle Operator's License. Also make sure to wear a seatbelt in goods vehicles if one is fitted, or you will be charged with penalty.
There are 3 types of goods vehicle operator license in the UK depending upon the kind of trading involved.
Restricted License –

for those who transfer their own goods or materials in linkage to their trade or business – this license covers all transport operations in the UK.

Standard (National) License –

for commercial drivers who carry their own goods or materials in linkage with their trade or business and/or carry goods for commission, or compensation – this license covers all transport operations in the UK. Someone in or hired by, the organization should hold a Transport Manager Certificate of Professional Competence (CPC) qualification.

Standard (International) License –

same as above except this license covers transport operations across entire Europe
We suggest that you plan to drive goods vehicle in the European Union (EU) and European Economic Area (EEA) after Brexit, since, the UK Government has announced obligatory requirements for UK commercial drivers in Europe after the UK leaves the EU on 29 March 2019.
IMPORTED VEHICLE
If you're bringing your own vehicle to the United Kingdom or hiring one once you reach here, you will be required to follow some predetermined unavoidable by UK law to get running on British roads. From legal requirements to driving etiquette, the UK's leading motoring association got everything you need to have a safe, memorable trip.
If you decide to drive your own vehicle on British road trip, then there a number of Legal Requirements to fulfil.
What you need to carry along other than your car: Papers
Your vehicle's documents

A valid driver's license (

All valid driving licenses in the EEA are completely and jointly sanctioned. You can check if you stand eligible to drive in the UK with your non-GB license with the UK Government's online test.)

Green Insurance Card

Passport or ID card

Accident and breakdown cover (valid throughout all European countries and covers any costs connected to car stolen or damaged in an accident)

A European Accident Statement

(

standardized throughout EU and will quicken any claim settlements or coverage in case of an accident

)

Motor insurance certificate

(

Not mandatory but recommended, as it offers all the information you'll need in case of an accident or theft abroad)

certificate of international travel insurance
You must have motor insurance to drive your vehicle on Britain roads, 3rd party insurance is the legal minimum. You can be charged a fixed penalty of £300 and 6 penalty points if you're caught riding a vehicle you're not insured to drive.
So, Don't Forget Insurance…AIB Insurance is a leading UK insurance provider who have been based in Hampshire since 1993 offering  Motorhome Insurance, McLaren Insurance, Bentley Insurance, Ferrari Insurance, Lotus Insurance, Aston Martin Insurance, Porsche Insurance, Lamborghini Insurance, American Car Insurance contact us today to get insurance quotes.