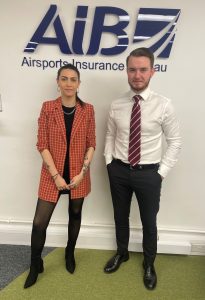 AIB are delighted to announce that experienced broker, George Procter has joined our business and will be based from our Chandlers Ford office.  George comes to us with many years of experience and will go straight to work learning our different products and markets within our busy insurance broker.
Despite his young looks, George's experience will be a great asset to us as he joins us from high street insurance broker A-Plan, where he worked in both the Eastleigh and Fareham offices for many years. Prior to that, he worked at Zurich Insurance as an underwriter, within the Construction and Terrorism team. He has a passion for home insurance and high net worth clients generally, but can turn his hand to almost any personal lines or property insurance product. We look forward to welcoming him into the team with his varied set of skills, resourcefulness and diverse experience.
FAST FACTS: 
George attended school at Swanmore Centre of Excellence, achieving a set of excellent grades. His seriously cool claim to fame is that he scored a belter of a goal at the home of Southampton Football Club, St Mary's! George enjoys golf, going to the gym and using his beloved steamer to ensure a healthy diet. Perhaps this robust lifestyle is the reason why he excels at everything he applies himself to. With his super fit brain power engaged, there will be no stopping this focused chap making a success of his role. Full Steam Ahead!
GEORGE SAYS:
"I have been warmly welcomed into the team here at AIB. I am excited about how rewarding the work will be, having heard that AIB are very successful in retaining a loyal client base and I am looking forward to working within a fast moving environment"
WE SAY:
Kirby De Gray Birch says: "George is a great addition and will work initially in our renewals department learning our company cultures and ethos's as well as our product range and our strong insurer relationships. We've got very high hopes for George who reports directly to our Managing Director, and we are all excited to watch his career develop and progress".
In addition to George, we also welcome Josie Bones to our team.  Josie joins our Administration Department, handling every aspect of a busy, personal lines broker. She possesses a wealth of customer service experience, having worked for many years at B&Q and within the hospitality sector, as an Events Co-Ordinator in Winchester. 
FAST FACTS: 
Josie lives locally in Chandlers Ford where she loves to walk her new puppy, Peanut, a beautiful brown, lively Cookapoo. Josie is passionate about music, festivals and theatre and has a very healthy addiction to Harry Potter World, having visited more times than she cares to remember! Josie's vibrant approach to life, her imagination and creativity make her an excellent and joyful asset to our ever strengthening team. We are supremely confident that she will wave her magic wand over everything she applies herself to, here at AIB. 
JOSIE SAYS:
"I feel very welcome here, everyone is kind, encouraging and have proven to be fantastic mentors and teachers. I look forward to a great career ahead of me and will apply my current skillset and knowledge to everything I do, hopefully with a view to enhancing the provision of this excellent company".
WE SAY:
Administration Manager, Megan Greer says: "Josie has made a brilliant start to her career at AIB and is rapidly learning all aspects of our business, including motor, home and liability. Her strong transferable skills have stood her in excellent stead. She has embraced all of our rigorous training and picked things up super fast."  
If you are interested in a career within the insurance sector and feel you have the skill set or the passion for great customer service please send your CV to info@aib.co.uk with a covering letter.