Today's car of the day is this incredible Jaguar E Type.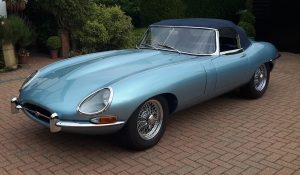 The Jaguar E Type is widely regarded as one of the most important and pretty sports cars of all time. It is a British sports car that was manufactured by Jaguar between 1961-1975.
Mr D was kind enough to take out a policy with Leah in our sales team, the policy includes both the benefits of salvage retention and agreed value. Leah was able to offer a lovely discount as Mr D has owned the Jaguar for quite a few years and keeps the vehicle garaged overnight.
Thanks Mr D for allowing us to share your amazing car. If you are looking for car insurance please call Leah and our team on 02380 268351.