Todays car of the day is the Mercedes Benz 190E.
In the early 1980s Mercedes decided its new small saloon, the 190, with its low-drag body and sophisticated multi-link rear suspension, would be the ideal base for a rally car to outfox the BDA-powered Ford Escorts and the Talbot Lotus Sunbeams that dominated rallying at the time.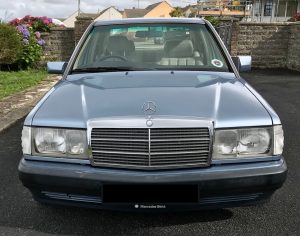 Initially, buyers could choose only a 2.0-litre, four-cylinder petrol engine model, with power steering, central locking and electric mirrors as standard. A year later however, a 2.0-litre diesel arrived, and a sporty 2.3-litre 16-valve flagship was announced in 1985.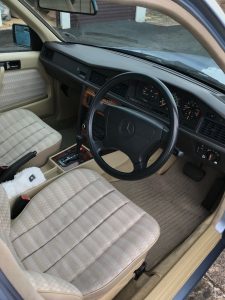 The six-cylinder versions arrived in 1987, with the 2.6-litre 190E and 2.5-litre 16-valve arriving in 1988 when the range was slightly facelifted. Finally, a 144mph Evolution variant was imported in 1990. Mr W has his own Mercedes 190 E insured with AIB insurance on a classic car policy.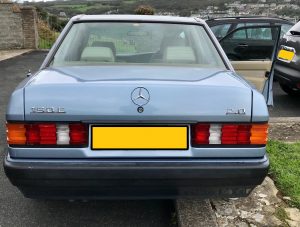 A classic car policy means that Mr W gets the benefits of agreed value on his car, salvage retention, choice of repairer and legal cover expenses.  Mr W can rest easy knowing that his car will be taken care of in a garage of his choice and knowing that only Mercedes approved parts will be used.
If you have a classic car that you would like to get insured on one of our classic car policies give our specialist teams a call today on 02380 268351. If you also have a classic car and have any photos you would like to share, email them to info@aib.co.uk.